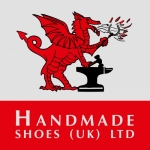 Unit 3-4 Williams Court Pitstone Green Business Park, Tunnel Way, Pitstone, Leighton Buzzard, Bedfordshire, LU7 9GJ (Show me directions) Show Map
01296 6...Fax 01296 660779
Monday to Friday: 09:00 to 17:30 , Saturday to Sunday: Closed
Cash, Cheque, Mastercard, Visa, Paypal
Profile
Supplying The Needs of Farriers In The UK and Around The World
Handmade Shoes supplies farriers in the United Kingdom and around the world. We manufacture some of the highest quality horseshoes in the United Kingdom as well as representing and sourcing products from some of the worlds best toolmakers and manufacturers. Handmade Shoes has the largest range of quality farriery tools, forges and anvils in Europe and possibly the world - and it continues to grow!

About Us
Based in the UK, incorporating an excellent technical customer service team, Handmade Shoes have an established and efficient supply and distribution network across the world. With a vast range of high quality products sourced to meet individual farrier needs. Handmade provides everything you need to be a farrier.
Our Services
Technical information is always at hand with a knowledgeable sales staff as well as the backup of 2 qualified, practising, farriers within the team; Billy himself and Timmy Fuggle (Head of Customer Services). Clients have come to expect and appreciate the high standards of customer service that Handmade Shoes provides. Education and supporting the farriery industry is close to Billy and Lucy's hearts. Each year Handmade Shoes hosts a spring and autumn clinic, as well as organising one of the largest shoemaking competitions in the world. In addition Handmade Shoes sponsors and supports many events throughout the farriery industry worldwide.
Add rich content via our editing tools
Remove ads from your listing
Appear more prominently in search results